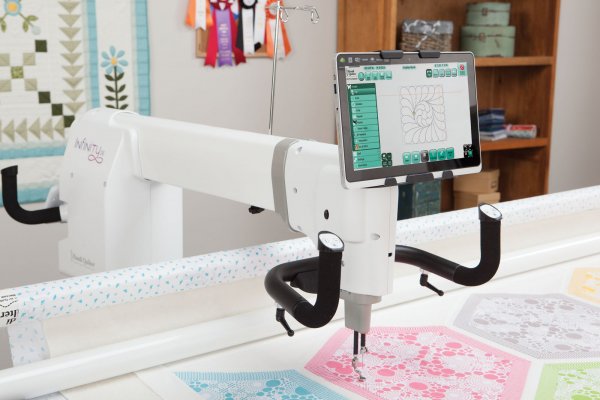 Schedule a private lesson with one of our teachers and learn how to navigate the computer functions on the Handi Quilter 26" Infinity using the computerized Pro-Stitcher. All supplies are included in this class. This session certifies you to use our HQ Pro-Stitcher to machine quilt on a rental per session basis.

Completing this session will give you an overview of functions and gives you the basic skills needed to quilt your own masterpieces! We do require students to view any Pro-Stitcher videos via YouTube after their lesson. This helps you be more prepared when working on your own quilts and allows you to expand your knowledge base for free! If you find that you need extra help, we can arrange a refresher course for you.
Call (406-257-5799) or email to schedule your class qg@quiltgallery.net
Requirements: Must have completed the Free Motion Lesson.
Pro-Stitcher Class: This class is required for anyone who wants to rent our HQ Infinity with the Pro-Stitcher computer to machine quilt their own quilts.

Class Fee: $145.00 one day lesson


Teachers: Samantha, Mary or Marianne
Call (406-257-5799) or email to schedule your class qg@quiltgallery.net

Rental Rates & Times:
Half Day: $55.00 - From 12pm - 5pm (5 hours) Use your time wisely as there are NO breaks for the half day rental
Full Day: $100.00 - From 9:30am - 5:30pm (8 hours) Full day rentals are allotted a 30 minute lunch break @ 12pm
Rent by the Hour: $15.00
Dates: Individually scheduled
We ask that you not wear any perfumes or scented lotions when taking classes as many people, unfortunately, suffer from allergic reactions to fragrances. Thank you for understanding.